In 2023 The UK Concrete Show attracted 4579 unique visitors.
This audience represents the UK concrete and construction industry and the customers that it provides for, with 73% of attendees being able to make or influence spending decisions.
Now celebrating its 12th edition the show is the only standalone exhibition dedicated to the concrete industry and is an unrivalled platform for exhibitors to meet key decision makers from across the concrete supply chain.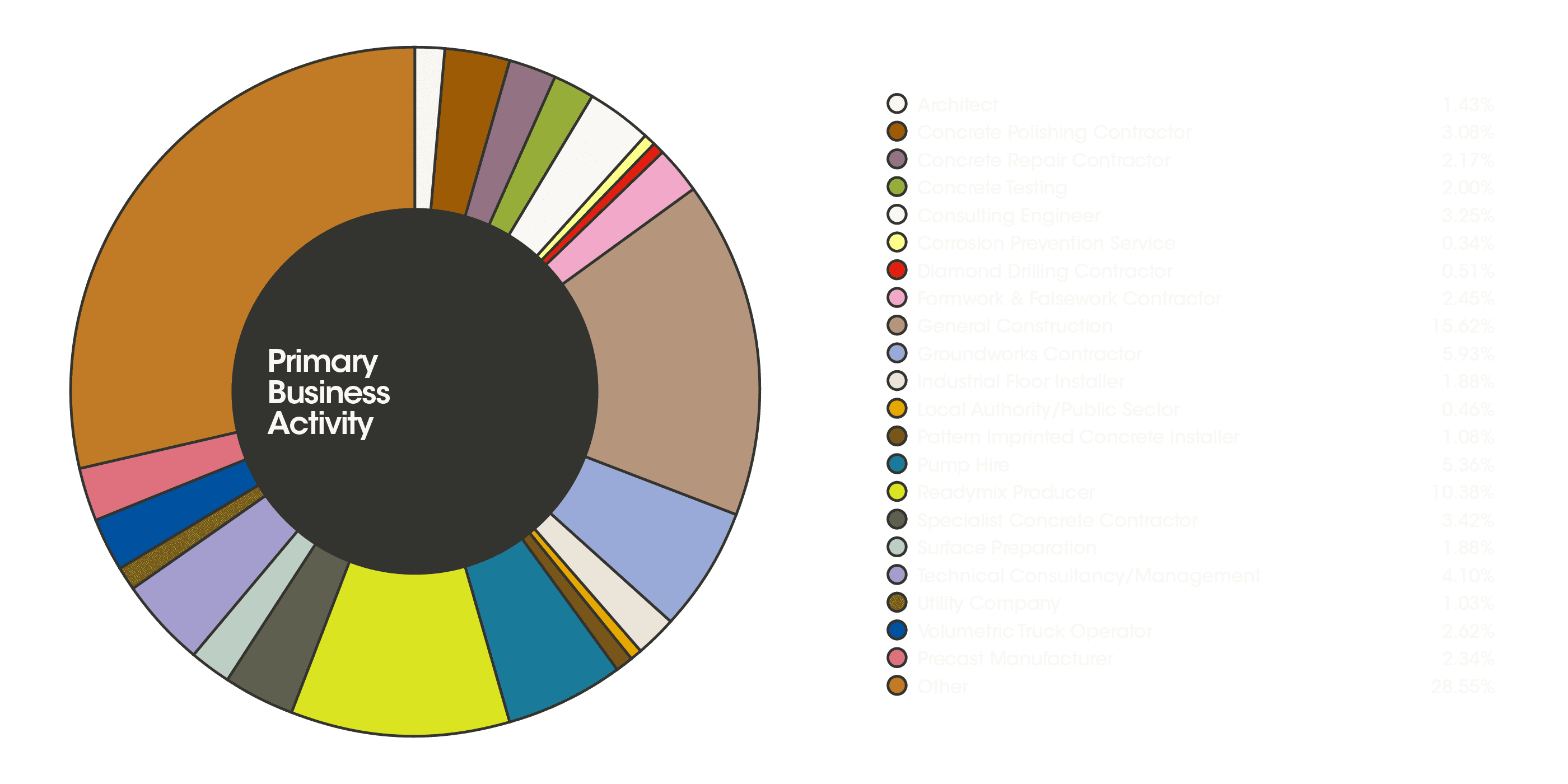 Primary Business Activity
Architect 1.43%
Concrete Polishing Contractor 3.08%
Concrete Repair Contractor 2.17%
Concrete Testing 2.00%
Consulting Engineer 3.25%
Corrosion Prevention Service 0.34%
Diamond Drilling Contractor 0.51%
Formwork & Falsework Contractor 2.45%
General Construction 15.62%
Groundworks Contractor 5.93%
Industrial Floor Installer 1.88%
Local Authority/Public Sector 0.46%
Pattern Imprinted Concrete Installer 1.08%
Pump Hire 5.36%
Readymix Producer 10.38%
Specialist Concrete Contractor 3.42%
Surface Preparation 1.88%
Technical Consultancy/Management 4.10%
Utility Company 1.03%
Volumetric Truck Operator 2.62%
Precast Manufacturer 2.34%

Other 28.55%
Senior Management (Owner/CEO/Director) 6.10%
Batcher 1.31%
Concrete Finisher 5.19%
Concrete Sales 4.56%
Design 3.48%
Estimating 1.37%
Facilities Management 0.57%
Installation 3.36%
Project Engineering 3.59%
Project Management 7.24%
Purchasing 4.39%
Sales/Marketing 21.09%
Service/Maintenenance 3.65%
Site Management 6.73%
Specification 1.37%
Supply Chain Maintenance 1.03%
Surveying 1.20%
Technical Management (Readymix) 2.74%
Consultancy 1.14%
Operations Management 2.79%
Other 17.10%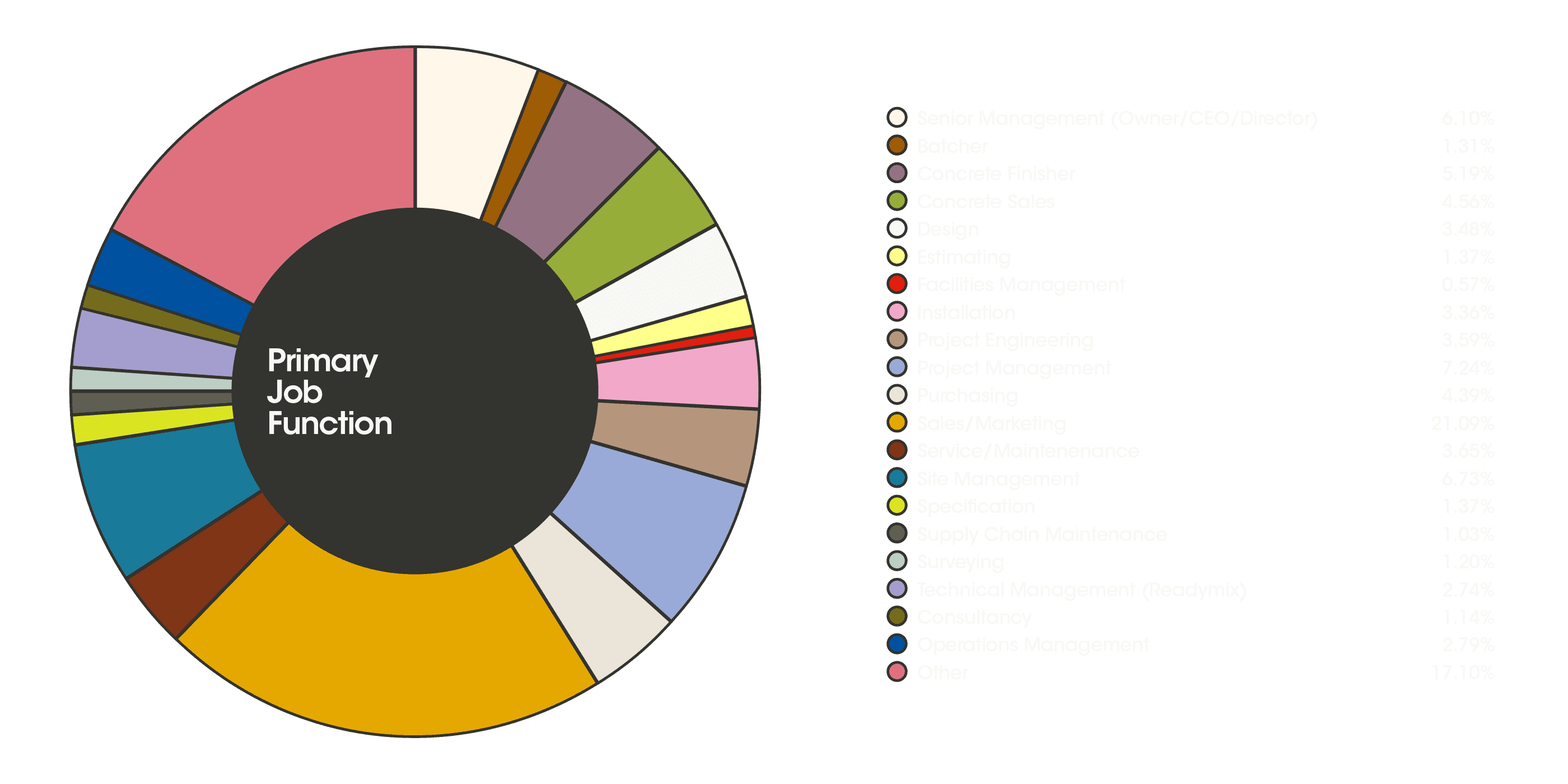 Key Visitor Interests
Products and Services
Admixtures 27.25%
Aggregates 27.25%
Beautiful Concrete 17.27%
BIM & Design Software 13.57%
Cement & Cement Substitution 61.29%
Concrete Repair, Screeds & Mortars 25.71%
Diamond Drill & Saw, Fixings & Fastenings 16.59%
Form & Falsework, Formliners 17.16%
Industrial Floors, Finishing Tools, Polishing & Surface Prep 36.43%
Mixing, Batching, Measuring & Testing Equipment 38.94%
PPE 5.70%
Precast Production Equipment 14.31%
Pumps 18.70%
Recycling Systems 11.29%
Reinforcement (including Steel Fibres) 26.46%
Shotcrete 5.70%
Truck Mixers 16.65%
Volumetric Trucks 11.23%
Waterproofing & Protection 17.73 %